Phew!!! At Last .!!@! At last I got my very own webpage. Its very damn hard decision to make to choose one from the hundreds of FREE website provider..!! WAHEY!!! How are u doin there???? First of all , THANX to U for visiting this NOT-SO-COOL webpage of mine.Allow me to Introduce myself. Named Crispus Mosinoh and was borned 100% kadazan race and im coming to 17-year-old this year..( cant wait to get my driving license ...yahoo!! ) and its a very tough year for me as im goin to face the BIGG exam u know !! Im the youngest and the naughtiest in four of my siblings. My Ma keep on telling me that im no better than my other siblings...hhmmhmh.i reckon that Im a stubborn person and likes to ignore what my Ma said to me. Ekkeke .Sowwy Mum!!! I have a lovely and chubby Sis who is looking forward to get married around next year maybe.. and two brothers who likes to show off their martial arts to me. Kicking me and punching me almost dead (no lah) .ya I know...ur getting bored to DEATH!!@!! Guess I have to stop here and Once again Thanx for wasting ur time here. ChaOZz!!@!
(Sabah Retreat) With my frenzz and a priest from Uganda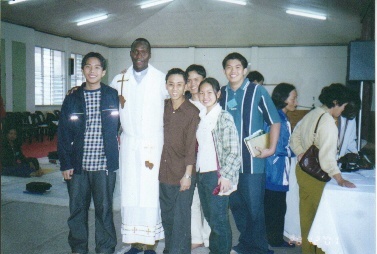 MtV at Mile 4 with my friends , watching Monkey Bone!!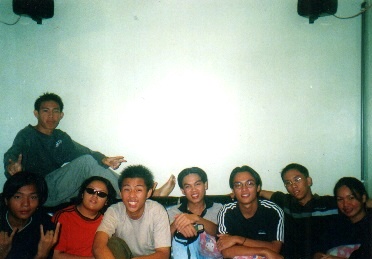 This is the place we usually cycle around everyday.We are also known as "Knights Cyclers"
At Bundu Tuhan and im getting shivering cold .This is a friend of mine(in black Tshirt) and was borned in Iowa,USA.HUH!!